La Boquería: a market full of sensations.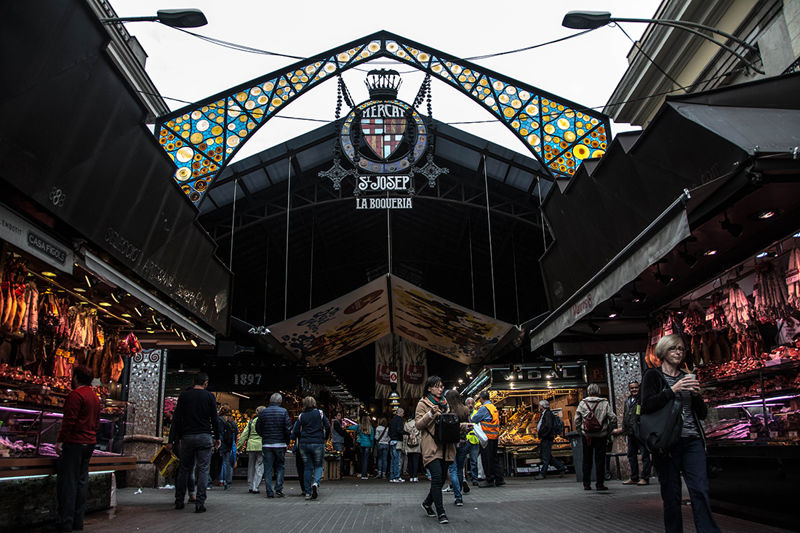 We are going to do some gastronomic shopping inside La Boquería.
Shopping at or strolling around the market of La Boquería is a wake up call for a lot of your senses. Arriving at the market, a multitude of gastronomic odors flood into our nostrils and we observe a diversity of colors and textures that draw the landscape of one of the most important markets at European level and according to CNN, American news channel, one of the best in the world.
Its location at the Rambla de las Flores of Barcelona is the main reason that causes the diversity of its people, a mix between the local population and the tourists who visit the city and do not want to miss the opportunity to try Catalan products of proximity.
Photos made by our team in the market La Boquería.
La Boquería is known for the high quality and variety of its products and for supplying to many restaurants in and around Barcelona.
Opened in 1840 under the name of Mercado de San José and popularly known as La Boquería, the market has its origins as an open-air market on the esplanade of Pla de la Boquería in front of the gates from the old city. Different street vendors and farmers of the villages gathered here to sell their products.
La Boquería is currently one of the most important tourist attractions of the city, with an area of ​​over 2,500m2 and more than 300 stalls where we can find all kinds of local and international products such as special meats from all over the world , Exotic American specialties, fresh seafood and fresh fruit, or famous fruit juices of combinations as succulent as banana with strawberry, mango and kiwi or strawberry and blackberry.
Sitting in one of the bars of the different food stalls that you nowadays can find in the whole market is an experience of smells, sounds and sight that we from RVD Media Group highly recommend.
Video: La Boquería Market in BCN.