Outdoor basketball courts in Barcelona. Ideal for shootings.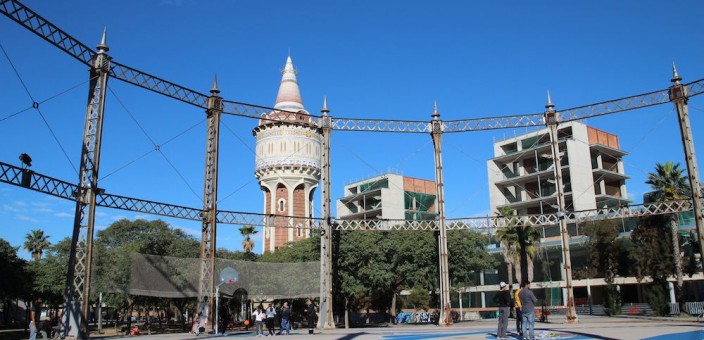 We did a shooting for Kipsta on the basketball court of Valldonzella.
Despite being very restrictive with urban sports, the city of Barcelona has of course basketball courts. In this article we reveal some of them in case you feel like throwing a 21, a triple contest with your friends or, in a more professional way, make a shooting or audiovisual production on sports fashion, to give an example. We did a shooting for Kipsta, Decathlon`s sportswear brand. Barcelona has a great diversity of places outdoors and indoors for all types of productions. In this case, part of the production took place on the basketball court of Valldonzella, in the middle of the Raval neighbourhood. This track located between the universities of Geography and History of the UB and the Communication of the Ramón Llull, is characterized by having an incredible multicultural environment, which attracts children and young adults every day of the week. Every afternoon, the track is a hive of young people playing their favorite sport.
Other outdoor basketball courts in Barcelona.
Below the Vallcarca Bridge, there is a small, simple but very charming track. The Vallcarca track is open until 11 pm and the Vallcarca Street Basketball Association organizes events and tournaments there to promote their sport.
Located on Via Favencia 121, the Antoni Gilabert sports court contains tracks for skateboarding, futsal and basketball. The basketball court is covered by a roof that facilitates its use in rainy days. There is also a small treadmill and there are usually enough people using the slopes.
Located in the district of Sant Martí, we find the Central Park of Poblenou, with its triangular shape delimited by the streets Avenida Diagonal, Bac de Roda and Marroc. In this park we find two basketball courts that are also very often crowded.
In the Parc de la Barceloneta, we find a track that was renovated a few years ago thanks to an agreement with the NBA. At the Barceloneta track there is an atmosphere of people who love basketball and in it we have been able to enjoy authentic tournaments where the participants had a lot of quality with the orange ball. Surrounded by a metal structure and with the blue painted floor and the NBA logo, this track is undoubtedly one of the busiest and nicest in Barcelona.
Finally,  in the neighborhood of Santa Eulalia, in L'Hospitalet de Llobregat, there is the Gasometer basketball court, an exterior playground with the blue floor and four baskets where the people of Hospitalet and Barcelona come to play their matches.
More information about RVD Media Group.
RVD Media Group is a content creation agency with creative and digital marketing solutions. We bet on great ideas and create strategic moves. We can help you with all types of content, both photographic and audiovisual. Don`t hesitate to contact us.