10 Pools in Catalonia and the Balearic Islands for shootings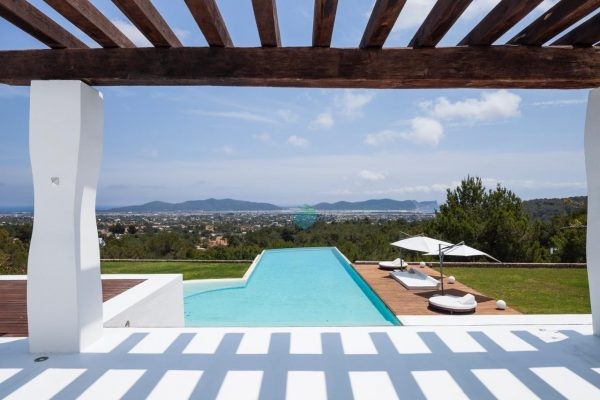 Today we show you 10 locations with pools of different styles for luxury productions, fashion, sports and so on.
It's summer time, so we want to show you several locations located in Catalonia, the Balearics and the city of Barcelona to make audiovisual and photographic productions around a swimming pool.
We have found indoor swimming pools, almost natural, in caves, with views, contemporary … if needed we look for the ideal location to communicate everything that your brand / product wants to transmit to its customers.
If you already know what you need or if you prefer an advice to decide the location of your next production or photographic shooting and you want to include a unique swimming pool, contact us and we will offer you the ideal solution.
Are you looking for a location in Catalonia? Contact us
In Catalonia
A pool integrated in its surroundings
This small paradise between the beach Fonda and the one of Fornells, seems natural but it is an artificial pool that was created more than fifty years ago. A location in full nature overlooking the sea on the Costa Brava for your shootings and audiovisual productions. The water comes from the sea and it is so well integrated into the environment that it seems all natural.
A pool in a cave
This pool is located in a farmhouse of the XVth century located in the Berguedà (Barcelona). When you go down to the depths where the foundations are you will find a heated pool inside a cave. In the past this cave could have saved the grain or has served as a wine cellar, nowadays it is an ideal space for shootings and audiovisual productions that want to blend an image of luxury and tradition in a very unique location.
Infinity pool
In this occasion the originality of the swimming pool is neither by its form nor by its position inside the house, but by its landscape. It is one of the so-called infinity pools from which you can contemplate the horizon. It is located in a rural house in the province of Lleida. In addition, if you also need an indoor pool location for your shooting or audiovisual production you will not have to leave here as it also has an indoor swimming pool.
Natural pool
This natural pool located in a rural house in the province of Barcelona does not use chemicals, but it is regenerated and purified by the action of plants. A "naturalized" swimming pool, with a bathing area surrounded by vegetation, without mud and without insects. It is made by man, but as the rivers and gorges of our country it is maintained by the same ecosystem. It takes care of itself. An oasis with all the comforts for your audiovisual shooting or production, very close to the city.
On the Balearic Islands
A spa overlooking the Mediterranean
On the island of Ibiza we find this sanctuary.  The exterior tours of this spa are unique in style, built around and within the Ibizan nature. 8 Swimming pools on different heights and of different depths located 180 meters above the Mediterranean, with spectacular views for a shooting or unique audiovisual production.
Swimming pool with contemporary design
We move to the island of Mallorca to admire the pool of this luxurious world-class villa located near Palma in the exclusive community of Son Vida. A more daring and evocative alternative with a more contemporary and future-oriented expression of architecture and technology. Do you dare to make your next shooting or audiovisual production here?
A pool Mediterranean style
In one of the most authentic and original villas on the island of Ibiza we find this incredible semi-Olympic swimmingpool with unbeatable views to the horizon. The garden has several chill outareas and depending on the focus, you can go from a pool location overlooking the Mediterranean Sea to a typical island house depending on your audiovisual production or shooting needs.
In Barcelona
Swimming pool and beach on the same site
The photographs that can be made from here over the city are just another incentive to climb the slopes of the Montjuïc. It became famous during the Olympic Games in Barcelona, thanks to the photographs that from there were made from jumping competitions. It also appears in the video for the song "Slow" by Kilye Minogue. The number of ads, shootings or productions shot in this location is already countless, a safe bet.
A pond near nature
This park, inaugurated in 1976, has a public pond very close to nature, in the district of Gracia with 6,000 square meters, perfect to enjoy the water without feeling the tumults of other, smaller public swimming pools in the city. Ideal for shootings and audiovisual productions with children or oriented to sports.
Olympic pool overlooking Barcelona
One of the most traditional sports centers in Barcelona and home to some of the most awarded water polo teams. The location of the club is enviable and allows to make a day of beach with full swimming pool. The views from the outdoor pools are to the Mediterranean, with the Hotel W in the background, an indisputable symbol of the city. Ideal for a production that needs to alternate the beach and pool in Barcelona.
If you are thinking about your next production and you need locations like these in Barcelona or any other part of the world, get in touch with us and tell us your needs. We leave you a link to our portfolio and services to inspire you for your next production.
More Information about RVD Media Group.
RVD Media Group is a content creation agency with creative and digital marketing solutions. We bet on great ideas and create strategic moves. We can help you with all types of content, both photographic and audiovisual. Don`t hesitate to contact us.