Ideal for shootings: Calella de Palafrugell.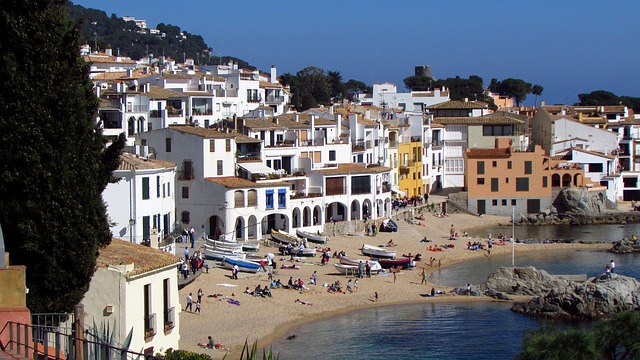 Calella de Palafrugell is one of the most beautiful villages in Catalonia.
If we visit the area of the Baix Empordà someday, a visit to Calella de Palafrugell is a must. This small town on the Costa Brava has a fishing tradition. Most families have fishermen as ancestors or are currently engaged in it.
Made up of white houses that draw a cozy and welcoming landscape, Calella de Palafrugell has been able to resist real estate speculation, avoiding the construction of large hotel complexes, despite its large mass tourism during the summer season.
The town retains its old core and puts much emphasis on the conservation of its beaches, coves, roads and the surrounding rural areas. Its church that rises among all the white houses with brown-orange roof tiles, its narrow streets and the multitude of fishing boats moored in the vicinity of its crystalline water coves, make Calella de Palafrugell one of the most beautiful villages of Catalonia .
We can find eight beaches in Calella de Palafrugell. El Golfet, Sant Roc or Cans dels, El Port Pelegrí, La Platgeta, Platja d'en Calau, Port Bo, Port de Malaespina and El Canadell.
The part of the round road that we find in this area is the one that passes through Tamariu, Llafranc, el faro de San Sebastià and Cala Pedrosa. From the road we see amazing rocky landscapes, made up of pine forests and other Mediterranean vegetation that favor the relaxation of all our senses.
South of Calella de Palafrugell, in the Cap de Roig, we find the Botanical Garden, where every year, since 2012, the Festival of Cap Roig has been celebrated. Artists such as Alejandro Sanz, Elton John, Manolo Garcia, Enrique Iglesias, Duncan Dhu, Hombres G, Dani Martín, Pet Shop Boys, Melendi, Malú, David Bisbal, Pablo Alborán, Sting, Rod Stewart , The Corrs or Status Quo, were already there among many others.

The annual meeting of habaneras is also super known in Calella.  It brings together thousands of people in the cove of Port Bo.  La Cantada d'havaneres is the best known and has been celebrating the first Saturday of July since 1966, bringing together well-known musical groups within this musical style.

Finally, Calella de Palafrugell was the village where the writer and journalist Josep Pla spent his days during the postwar period and where the singer-songwriter Joan Manuel Serrat composed his song « Mediterráneo ».
Calella de Palafrugell is undoubtedly an ideal town for any kind of photographic and audiovisual production. Its wonderful landscape and its tranquility off-season makes of this town an ideal place to carry out an excellent production.
More information about RVD Media Group.
RVD Media Group is a content creation agency with creative and digital marketing solutions. We bet on great ideas and create strategic moves. We can help you with all types of content, both photographic and audiovisual. Don`t hesitate to contact us.