Sea, mountains and medieval villages in Cantabria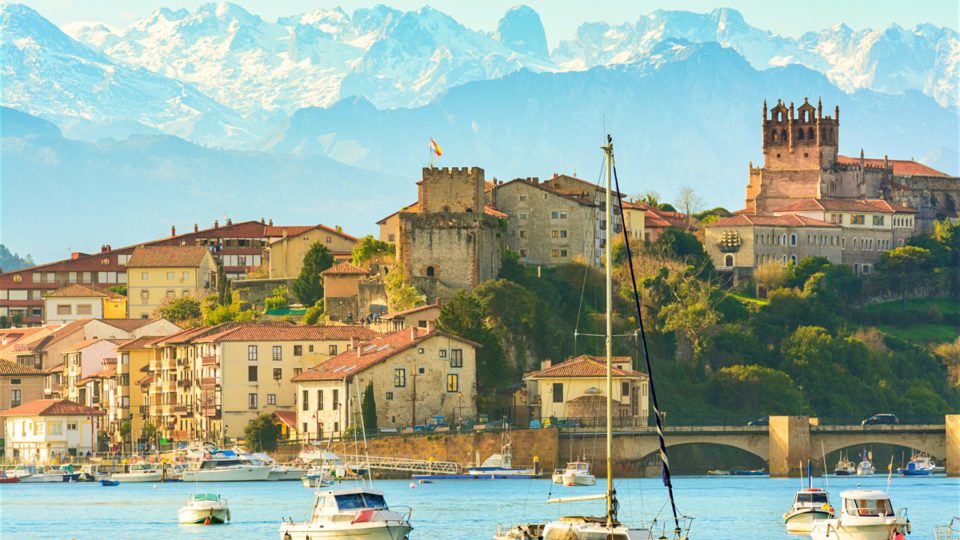 Cantabria is an Autonomous Community that combines sea and mountains, culture and gastronomy, beautiful medieval villages and extensive sandy areas.
All this in an area of just over 5000 km², which makes it the second smallest autonomous region of the peninsula.
Picos de Europa, Santillana del Mar, Potes… Cantabria has many well-known tourist destinations, but hidden between its forests and its coasts we find many equally enchanting places to locate your audiovisual production or photographic shooting.
Do you want to find the best location? Get in contact with us!
Santander
Besides having one of the most beautiful bays in the world, it has locations like the Palacio de la Magdalena, the former summer residence of the kings of Spain that still maintains its elegant Victorian appearance. Santander occupies a small tongue of land surrounded by beaches and cliffs between the area of Sardinero and Queen Victoria. A beautiful environment dotted with pines and seals, a delight for your audiovisual project.
Comillas
Antonio López, a wealthy "Indian" who, after making his fortune in Cuba, returned to Spain, built a series of buildings that converted this old Cantabrian fishing village into one of the towns where Modernist Art is most represented in Spain. Ideal for your audiovisual production or photographic shooting. Almost all the buildings of the fabulous Route of the Modernism of Comillas make reference to this person in one way or another.
Valley of Liébana
Several places are worth knowing in the Valley of Liébana, which, in turn, is made up of several valleys. Its capital is the beautiful town of Potes. It is the most monumental village in the region with beautiful houses, some emblazoned, and an imposing Torre del Infantado… You will discover here many urban locations and plenty of nature for your audiovisual project.
Cabárceno Park
In this park, the biggest one in Europe of this kind, many different species of animals can mix freely with each other in spaces that cover many hectares. And nothing is more imposing than being able to enjoy animals in freedom in your next photographic shooting or audiovisual production, isn't?
Santillana del Mar

It is a small town, whose lay-out is arranged in the shape of a "Y". It counts a large number of emblazoned mansions and small palaces, ideal funds for your audiovisual project. In addition, the urban nucleus of Santillana del Mar is entirely pedestrian which many facilities to walk.
San Vicente de la Barquera

San Vicente is a fishing village whose beauties lie in the double estuary that presides over the town, in its estuary full of fishing boats, in its walks and in its castle. If you are looking for an impressive background for your audiovisual production or photographic shooting, the views from the top of the fortress will surprise you.
Cave of Altamira
The Altamira Cave with its Paleolithic paintings is one of the most important caves of this kind among the European ones and, without a doubt, the most important one in Spain. Although it would be ideal for your audiovisual project, it is very difficult to get access. For this reason, there are replicas of the most important paintings in the so-called Neocueva de Altamira, where the most important engravings and paintings of the original are recreated artificially.
Cave of Soplao
You will find it under the mountains near San Vicente de la Barquera. Its interior hosts one of the largest concentrations of eccentric stalagmites in the world. They are white, convoluted and impossible. The regular visit guides you to the main room, well equipped and illuminated, very spacious, suitable for people who don't like enclosed places. There is also an adventure tour, longer and more speleological, but still without much complications. Ideal to learn more about the cave and with great perspectives for your photographic shooting or audiovisual production.
Faro del Caballo

At the foot of Mount Buciero or Peña de Santona, the elevation that presides over the great bay of Santona, you will find turquoise waters, crystalline and beautiful. A pleasant route through the forest leads you to this secluded place, only accessible by boat or on foot. Following the arrows and descending the more than 600 irregular steps, you will reach the place, an oasis of peace for your audiovisual project.
Peaks of Europe
If you are looking for landscapes in the middle of nature and in the heights for your next photographic shooting or audiovisual production, you have an indispensable date with the Cantabrian Mountains, especially with the Picos de Europa massive. You can climb them by taking the Fuente Dé cable car, an installation that makes a distance of 750 meters in a couple of minutes. Once there, marvel the views of the Mirador del Cable or explore the area. From here you can cross the mountains until you reach Asturias.
More Information about RVD Media Group.
RVD Media Group is a content creation agency with creative and digital marketing solutions. We bet on great ideas and create strategic moves. We can help you with all types of content, both photographic and audiovisual. Don`t hesitate to contact us.